Love in The Heart brings Tears to the Blue Eyes
and they come when the Holy Spirit meets
your Spirit.

~*~

The females as far back as I can remember have been "whimpies" (criers). I include myself when I say "we" can cry at the drop of a hat. We have very tender hearts, which historically have been worn them on our sleeves.
We attended Mass on Saturday evening as per custom. We sat on the first aisle to the right of the center aisle, on 2nd or 3rd row. Because of this seating, we have a better view of the altar, lector, and cantor. I like being close because there are always so many distractions in a large crowd between you and the front.
We were in a part of the Mass where Father was reading a long prayer. My eyes were lifted to the enormous crucifix and straight into the closed eyes of Jesus. I was transfixed on his wounded body and what had been done to him. His passion raced through my mind and before I knew it, the tears came. I thought about one particular special intention fleetingly and it took a lot of control to keep from getting into a full blown cry.
My heart was bursting and it hurt. Daughter on one side "why are you crying"; husband on the other side "what's the matter?" and then he said "stop it!", as if I had control over it. I finally just told them it was between me and Jesus, and it truly was. I was as close as I have ever been to Jesus in those few seconds. My heart poured out all of its hurts pleadingly, and without any effort on my part. I was trying not to cry, but it just came.
I am not ashamed of my tears. They come often as I am in deep prayer. I feel they are appropriate every time they come. For I have tapped into a very deep place where lies my love for Jesus and The Holy Spirit leads me there, so why hold back?
Jesus WANTS us to unburden ourselves to him. These burdens are like sending roses up to Him and He feels every ounce of your love for him. Whom do you know on earth that will take the continuous unburdening of your heart without growing weary? Nobody!
Jesus and God are there FOR us, not us for them. They wait for you to go to them with your deepest hurts and needs, and also love. At that moment, I felt more love for Jesus that I feel I ever have, but I'm sure my love knows no bounds. It is there, it is the strongest of loves, and there is no measuring it.
You, too, can be this close to Jesus. Just pray hand-in-hand with The Holy Spirit, and in the deepest sincerity; not thinking only of your needs, but what was done to our loving Jesus all those years ago, for all sin, for all time.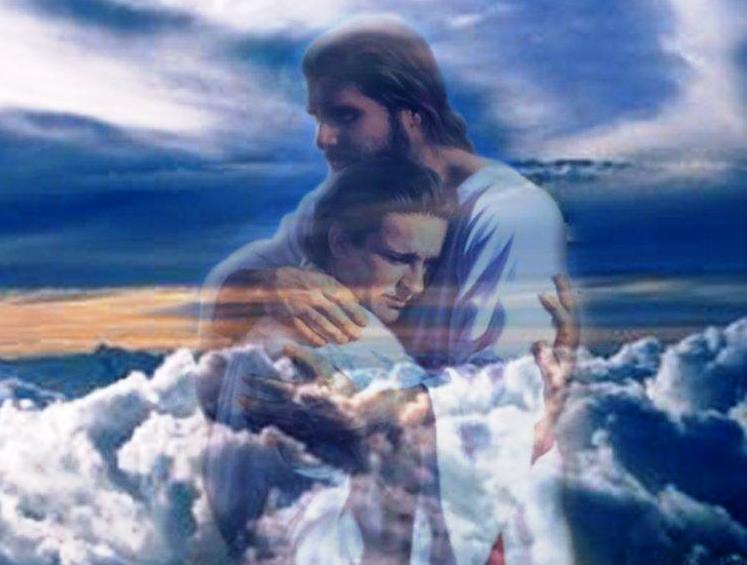 And as she stood behind Him at His feet weeping,she began to wet His feet with her tears. Then she wiped them with her hair, kissed them and poured perfume on them.
~Luke 7:38
Lovingly in Jesus Christ,
ABBEY♥