The Book of Titus was a letter written by Paul to Titus around A.D.65 In reading it, I think to myself, "This book isn't just for adults. It contains a mountain of advice which can also be used in raising your children to behave as the Christians that they are."
Though it is a very short book (2 pages in my Bible), it is packed full of the "do's" and "don'ts" of Christian life. In his letter, Paul stresses the need for Christian living in this world full of evil.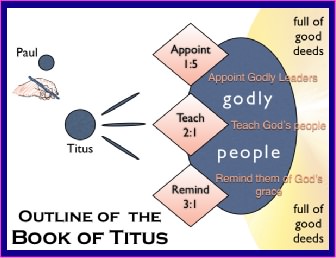 Is it not amazing that this Book, so very, very old, pertains now to the present state of the world? I am always amazed in reading The Bible and how much it feels as though it were written yesterday, just for me. There is much hostility around us, in our homelands, and in others. But as Christians, it is imperative that we live to show others by how we live our lives what the Grace of God can do.
Allow me to give you some examples:
"In choosing pastors, they (the candidate) must have led blameless lives as Ministers of the Word of God." [sic](1)

"Speak up when around others as to the right way of living that goes with being a true Christian." [sic](1)

"The elderly woman is taught to be a quiet woman, and teach the younger women how to live a quiet life, to love their husband and children, and to be sensible and clean minded, living in their homes and being kind and obedient to their husbands, so that the Christian faith cannot be spoken against them by those who know them." [sic](1)
(1)The King James Bible for the lay.
Paul delivers a most profound statement in saying, "
[t]hat we are all being offered "the free gift of eternal salvation
." God wants us to turn away from sinful, godless lives, and to turn to him and accept
his gift of salvation
. We are to give up pleasures we know are sinful, and live as God-fearing Christians every day for the rest of our lives. We are being asked to give our entire selves, body and soul, to God and to live a clean, God-filled life every day.
In living in this way, it will be impossible for others to not notice how YOU live, and then they have second thoughts about their own lives and come to the Cross. That is how you become a minister of God.
Christ did not die for us because we are so wonderful! Quite the opposite! He died for all sins for all time so that anyone, anytime, can turn to Him. By washing away our sins, Jesus gave us the fullness and joy when he poured out the Holy Spirit within each of us. In doing so and living a Christian life, Jesus can declare each of us good in the eyes of God when we meet him on judgment day.
One of the greatest pieces of advice that Paul writes to Titus is to teach the people that they should always be aware. For Christ could come at any time, any day; to not fill our time with drunkenness and hatefulness toward others, for Jesus may come while you're in a state of drunkenness or in ill will, and what will you do if you are drunk in the presence of our Savior? It pains me to think of it, and hopefully, this pains you as well.
Always be a Christian, living a Christian life, testifying to others whenever the opportunity presents itself, being kind and good toward others, even strangers. Do not engage in arguments with unanswerable questions, such as the often argument of when Jesus will make His second coming. Why argue over it? It simply cannot be answered! Even Jesus declared that He does not know the hour nor day that God will send him back for his faithful. This is useless conversation and at times can split friendships to pieces; it serves no purpose. Spend that time doing something positive instead.
If you spend your Christian life doing good deeds, it is not only the right thing to do, but it also brings results! I can attest whole-heartedly to that!
I pray for each of you during this Season of Advent, as we celebrate the First Coming of Jesus Christ. Be happy and joyful, and always remember why we are celebrating. After all, it was the beginning of our Salvation, what it is and how we can attain it. It's a choice, and it's your choice to make.
Lovingly in Jesus Christ,
ABBEY♥