For You are my hope, O Lord GOD; You are my trust from my youth. By You I have been upheld from birth; You are He who took me out of my mother's womb. My praise shall be continually of You.
Psalm 71:5-6
~*~
At this time of Thanksgiving, I reflect on my youth and spiritual matters. I didn't like going to church or especially Sunday School. I was of a different faith than Catholicism, and we attended infrequently. That causeD such an inferiority complex in me when I was forced to go to Sunday school. I never had my "lesson" done for that Sunday, everyone knew everyone (except for me), and whenever I called upon to answer a question about the day's lesson, I sat silent while everyone stared at me.
When I left home and made my way as an adult, I NEVER went to church and I NEVER prayed. This went on for over a decade. In fact, I was surrounded by people and a love interest who didn't believe in God. I knew it was wrong in my heart, but I never spoke up. In essence, I had turned my back on God.
As I think on it, there were several times, 3 specifically, when men I did not know came to my door and begged me to let them in. One needed to use the phone because it was "urgent", one claimed to be looking for his daughter and wouldn't take my word for it that she wasn't in my apartment and he wanted to come in and look, and the last one knocked on my door and tried to get me to open it saying "don't be afraid, I'm not a burglar." Do you see all that could have happened to me, especially if the two me to whom I opened the door had forced their way in? It scares me to death to think about it. And all the times I was riding on the back of that motorcycle going 70 mph down a California freeway wearing NO helmet,
These are only a few examples of where God did not turn his back on me. I am sure there are thousands of instances where God
took
the wheel and turned me in the right direction or saved me from my own stupidity and ignorance. They say "ignorance is bliss". Well, I suppose that's true but what would happen if the world were in a state of constant bliss? We would not know God even existed. If everything were always grand, why would we need God? No, mankind is far from ignorance, and still denies itself of a full relationship with our Lord and our God.

This Thanksgiving, I am the most thankful for when I fully gave my heart and soul to God! My life is not a state of bliss, but I have good people in my life, people who love me and will be there whenever there is a need, and receive the same from me. I have a God with whom I talk and give my innermost feelings and thoughts. He also receives my complete love above all things and people. God is Number One in my life. And I am prepared to die for Him if this world comes to that end.
I no longer fear death because I know Him, and I know there is a Heaven and my mind cannot comprehend how Glorious it is in heaven! I'm not ready to go. I have a lot I want to do and see before I go, but if He came for me today, I would be ready.
If God came for you today, would you be ready to go with Him? To answer to His questions about your life and how you lived it? Believe me when I tell you that your Salvation is THE single most important thing in your life. Everything else falls beneath it. Don't take it for granted, don't take God and Jesus Christ and all that was sacrificed just so you could spend eternity in Paradise, and yes, in complete bliss, for granted. You have to earn your place because we are all sinners but forgiveness is just one word away!
This Thanksgiving, turn your heart to Heaven. Tell Him that you want to have a real relationship with Him and then get on the ball and keep it going, Pray/talk to Him every day. Pray for others, pray for yourself, but most of all, pray that Thy Will Be Done.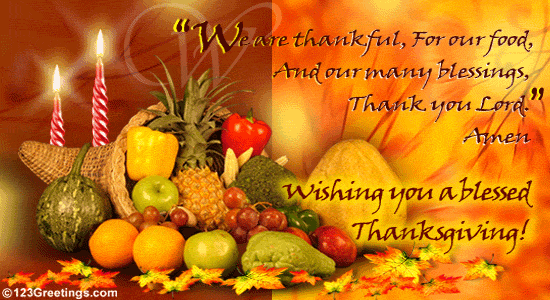 HAPPY THANKSGIVING, DEAR BROTHERS AND SISTERS IN CHRIST!